Our Philosophy
Shikshankur is a school inspired by the pioneering thought and work of world-renowned master educators, Maria Montessori and Rudolf Steiner. Montessori (1870-1952), an Italian physician and educator created a method of learning for young children that stressed the development of a child's own initiative and natural abilities, especially through practical play. This approach was formalized over many decades and extended to older children. Steiner (1861-1925), an Austrian philosopher, playwright and artist, founded a movement based on the premise that children's creative, spiritual and moral dimensions need as much attention as their intellectual ones. This approach has become increasingly popular and necessary in contemporary society that places high value on emotional intelligence, collaboration, and innovation. At Shikshankur, we combine these methods to actively engage, enable, and encourage children to pursue their passions.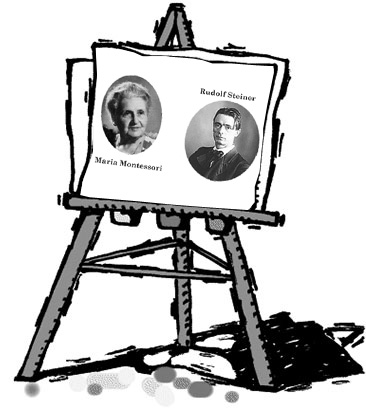 Shikshankur has teachers introduce broad themes to children, whose own curiosity and interest determine how they pursue both the dimensions and depth of those themes. In this way, the classroom teacher becomes a facilitator of learning experiences (i.e., "a guide on the side"), rather than a font of knowledge (i.e., "a sage on stage"). Parents are expected to play an active support role by encouraging their child's natural creativity and curiosity. Shikshankur offers parent workshops to help them contribute and support the school's approach to learning. In this way, we all become members of a learning community that promotes similar strategies and adopts a consistent philosophical approach.
The global perspective is visible in the in-house learning approach, developed for the pre-primary and primary classes whereas the visionary CBSE board is adhered to, from the middle school onwards. Shikshankur intends to provide a vibrant learning atmosphere to all the members of its community.
L'importance de parier pour de l'argent réel
casino argent reel
sur un site Web fiable. Déposez de l'argent réel sur des sites Web réputés. Pour gagner de l'argent réel dans un casino en ligne, vous devez vous fier à un site Web réglementé et fiable. Pour jouer avec de l'argent réel dans un casino en ligne, vous devez effectuer un dépôt en indiquant vos coordonnées personnelles et bancaires pour le site sélectionné. Comment pouvons-nous choisir parmi des centaines de sites de jeu en ligne avec une certitude absolue? Facile!
D'après l'avis de nos experts. En tant que vrais passionnés de casino, nous passons de nombreuses heures par jour à miser de l'argent réel sur différents terrains de jeux afin d'être les meilleurs dans notre entreprise. En lisant nos avis, vous constaterez que nous accordons une attention particulière à la qualité du logiciel, à la sécurité du site Web, à l'impartialité du jeu, au service client et, surtout, aux méthodes utilisées pour déposer et retirer des fonds. Cela est dû au fait que les casinos en ligne jouent pour de l'argent réel. Par conséquent, choisir un site Web fiable et légalement approuvé est la première étape si vous souhaitez parier sur des sites de jeux d'argent.